The RUN-EU+ project primarily focuses on enhancing the development of R&I with and for Society through the development and deployment of collaborative professional practice-based research degrees across the RUN EU alliance.
RUN-EU is a European University, made up of 7 HEIs from 6 countries and has 75.000 students and 8.000 staff. RUN-EU provides a structured framework for the enhancement of the R&I ecosystem with business and society at a regional and inter-regional level across the University alliance. 
RUN-EU PLUS – Professional Research Programmes for Business and Society (RUN-EU+) aims to complement our RUN-EU European University action plans (avoiding replication), in developing an integrated long-term strategy for research and innovation (R&I) within our University and in addition will develop a framework and programmes at MSc and PhD levels across the network. The RUN-EU+ R&I strategy will fundamentally reinforce our cooperation in R&I with other sectors, particularly with academia-business collaboration in the RUN-EU focus areas of Future Industry and Sustainable Regional Development, the Bio-economy and Social Innovation. Specifically, RUN-EU+ will develop a Common R&I Agenda and Collaborative Action Plan, in synergy with the consortium's education strategies and regional engagement initiatives detailed within the 'Interuniversity Future and Advanced Skills Academies', 'European Innovation Hubs' and 'European Mobility Innovation Centre' of our original proposal. RUN-EU+ will define the roadmap for the development of Co-collaborative Professional Practice-based Research Masters and PhD Programmes. These will be accredited, scalable, interdisciplinary and focused on Business and Society. This will include social and cultural innovation, complementing the agenda of the 'European University Initiative', facilitated through engagement with our stakeholder clusters to strengthen academia-business cooperation, sharing of knowledge, identification of specialist skills needs and the valorisation of the entrepreneurial mindset amongst our research community. An Economic Resource/Assessment Model will also be developed to ensure scalability and long-term sustainability.
The identification of regional innovation strategies and specialisation will inform the design of Professional Practice-based Research Masters and PhDs and the creation of expert University Supervision Teams. In strengthening the innovation capacity RUN-EU+ will design accredited professional development programmes for work-based supervisors, advisors and mentors, in collaboration with our regional stakeholders available through the University's cloud of knowledge portal. In mainstreaming our R&I entrepreneurship and transversal skills we will design a suite of seminars, workshops, bootcamps and summer schools that will equip researchers at all career stages with the necessary tools and skills to research and implement innovation. RUN-EU+ will thus build challenge-based interdisciplinary knowledge-creation ecosystems of learning including students, researchers, public and private sector stakeholders and the RUN-EU+ cloud of knowledge shared platform for pooling our expertise, data and resources. A Research and Innovation Ambassadors network, supported by an Innovation, Research and Development Facilitator, will also be created to consolidate the connection of the 'University' with other actors of the ecosystem including, agencies, investors and the wider business community.
The HAMK RUN-EU PLUS project team held a 3-hour morning seminar  12.12.2022 at the Hämeenlinna Campus. The program and description of the event can be found Here. 
For more information on the project please visit the RUN EU PLUS Website
Project Partners and Management
Partners
Project management
The RUN-EU PLUS project is an integrated long-term strategy for research and innovation within our European University coordinated by Technological University of the Shannon: Midlands Midwest – TUS, Ireland. 
The RUN-EU PLUS project management structures and procedures are similar to those that govern the RUN-EU alliance to exploit synergies and avoid the duplication of efforts.
The RUN-EU PLUS General Assembly, Student Advisory Board and Associated Partners Advisory Board are drawn on the RUN-EU alliance governance structure.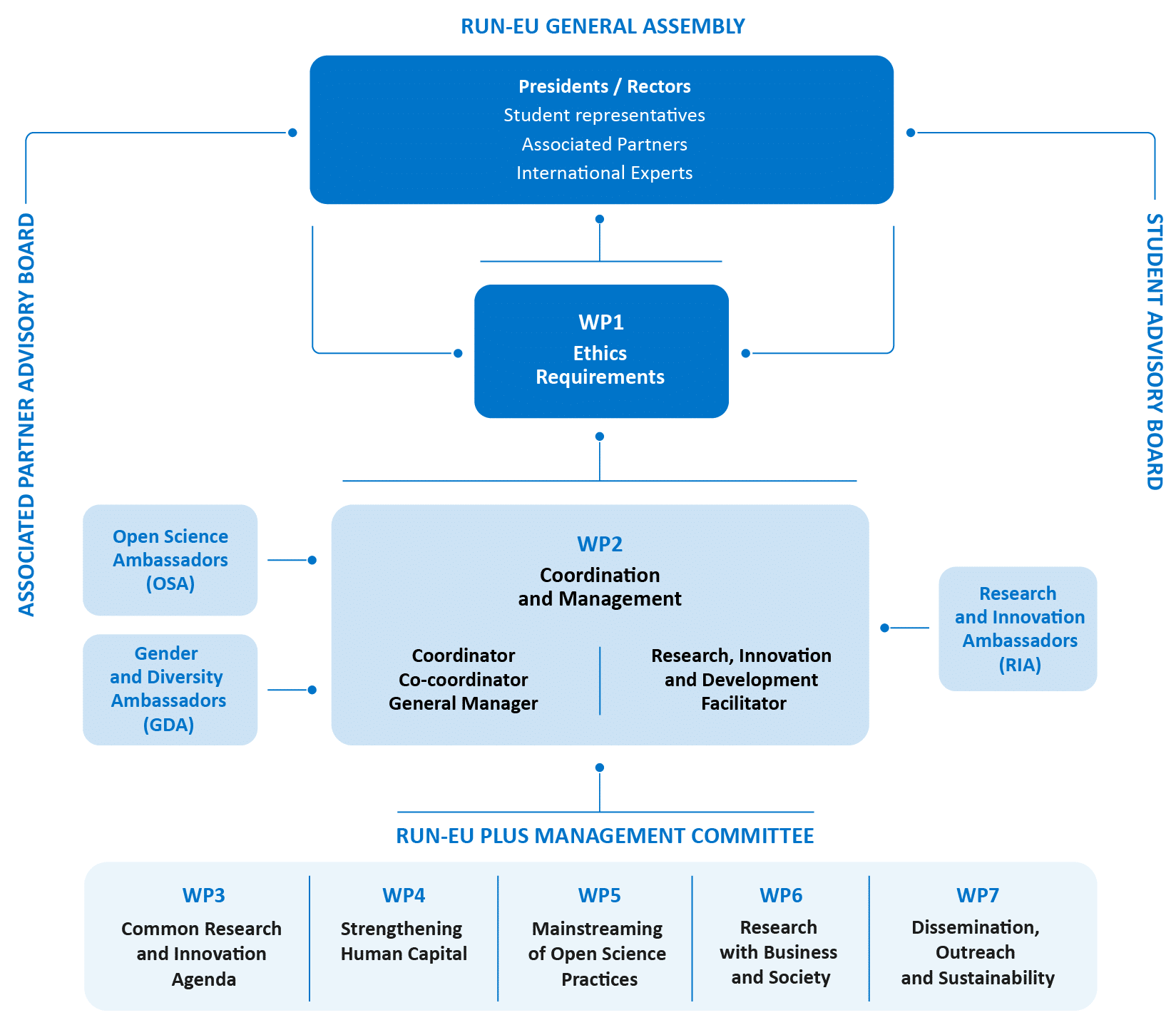 WP4 Strengthening Human Capital
Work Package 4 is led by HAMK and the objectives of the work package are:
To identify current practices across the RUN-EU PLUS consortium and best practices within Europe as outlined in the charter and code in the deployment of human resource strategies for researcher career development.
To introduce a 'Research Career Development Programme' adhering to the European charter and code principles to support our researchers in identifying clear personal career paths which will encourage inter-sectoral and international mobility during their careers and foster diversity and inclusiveness, including fostering gender equality and balance in research teams, to close the gaps in the participation of women.
To introduce a research career evaluation system across the RUN-EU consortium to reward researchers and research excellence at all career development stages.
To develop a cloud of knowledge portal equipping researchers with a combination of pedagogy and research skills. The European Charter regards Teaching as an essential means for the structuring and dissemination of knowledge and therefore considers it a valuable option within the researchers' career paths.
BLOG